Fernandez breaks ground for US$1.4B resort in Dominican east
PUNTA CANA.- Venezuelan investors began yesterday in Altagracia province (east), construction of the tourist complex Vista Cana, Resort & Country Club, on six million square meters of land.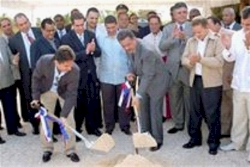 The complex will have 6,000 residences, a 100 room business hotel, a 27-hole golf course and a 180,000 square meter artificial lake integrated to the beach area, and built at a cost of around 1.4 billion dollars.
President Leonel Fernandez and the project's main promoter, Salvador Fermín headed the groundbreaking ceremony, with Tourism minister Francisco Javier Garcia also present.
According to the promoters, the facility will hire around 20,000 workers when concluded.
Please contact us now so that we can personally discuss
how we can assist in your Dominican Republic real estate purchase.