Prince Albert of Monaco to launch Dominican tourist complex
Santo Domingo- President Leonel Fernández, will lead the ground-breaking ceremony for the construction of the Punta Perla tourist complex in the company of Prince Albert II of Monaco. The project has a projected investment of US$2.5 billion, and is the third tourism initiative of this type to be launched in the country since November.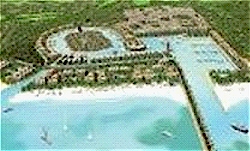 The 10.2 million square meter property with 3.5 kms of beachfront will include four boutique hotels, 8,800 residential units, three golf courses, an inland marina, a beach club, an amphitheater, sports installations, commercial units, a shopping mall open to the public, a museum and staff accommodation.
Punta Perla is expected to be completed within a 10-12 year period.
It was announced that the Prince of Monaco, although not an investor in the company, has shown an interest in supporting Punta Perla, as he considers it to be an environment-friendly tourism development that could set the standard for other similar initiatives.
Punta Perla is promoted by European tourism specialist business groups.
Please contact us now so that we can personally discuss
how we can assist in your Dominican Republic real estate purchase.